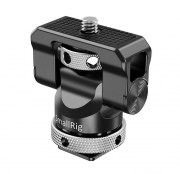 SmallRig Swivel and Tilt Monitor Mount with Cold Shoe BSE2346
SmallRig Swivel and Tilt Monitor Mount with Cold Shoe BSE2346 ที่ยึดจอมอนิเตอร์เข้ากับฮอทชูกล้อง ปรับหมุนได้ 360 องศา ก้มเงยได้ 140 องศา โดยไม่ต้องใช้เครื่องมือ วัสดุอลูมิเนียมแข็งแรงทนทาน รับน้ำหนักได้ 1.2 กิโล ติดตั้งง่ายด้วยน๊อตหมุนขนาดใหญ่ถนัดมือ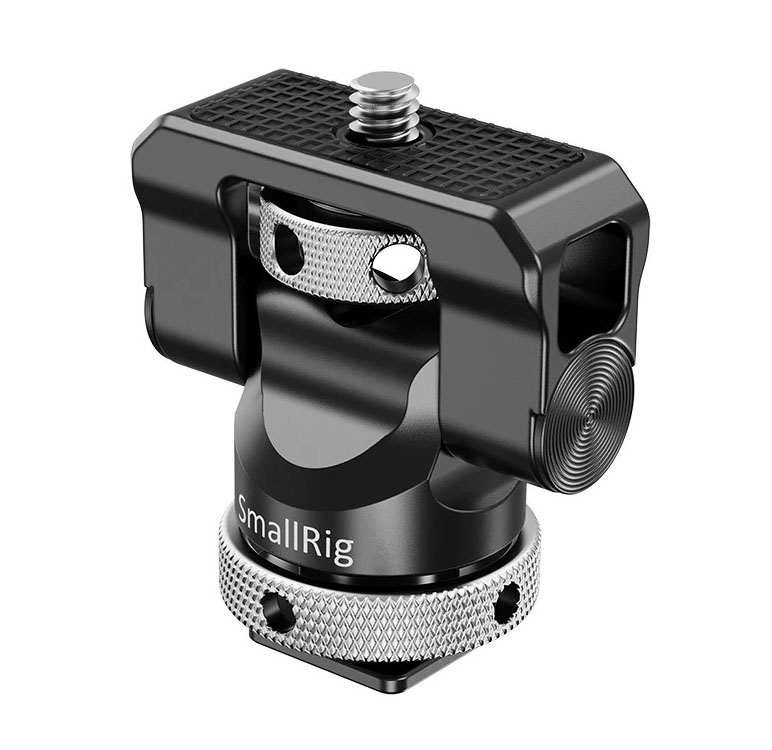 Key Features:
1.Supports 5"and 7" Monitor up to 1.2kg
2.Swivel 360° and Tilt 140° with Free-Stop in Any Position
3.Features holes on Thumbscrews for Hex Spanner
4.Rubber Pad on the Top to Prevent Scratching
5. CNC-Machined Aluminum Construction, Robust & Durable
SmallRig Swivel and Tilt Monitor Mount with Cold Shoe BSE2346 is designed to hold your monitor onto the top of camera or other mounting system via cold shoe adapter. The holder enables to swivel 360° sideways and tilt 140° which allows to hold your monitor onto any position without using tools. The robust mount is CNC-Machined Aluminum and can support 5"and 7"monitor up to 1.2kg. The top of mount features rubber pad to protect your monitor or light from scratching. The size of thumbscrew head is increased so that it's easy to install. Both thumbscrews features holes for hex spanner to ensure your monitor safe.
Designer: Tracy Joy
Note1: Maximum payload: 1.2kg
Note2:Please do use the hex spanner to re-tighten the thumbscrew to ensure safe.
Compatibility: 
SmallHD Focus Series
SmallHD Focus OLED Series
SmallHD UltraBright Series
SmallHD 500 Series, 700 Series
Atomos Ninja Series
Atomos Shogun Flame
Blackmagic Video Assist 5"
Other 5"or 7"Monitor Kit Weights less than 1.2kg
Package Includes: 
1 x Monitor Mount
1 x Hex Spanner
Product Dimensions: 46 x 49.9x 30mm
Package Dimensions: 76 x 63 x 40mm
Net Weight: 82g
Package Weight: 94g
Material(s): Aluminum Alloy