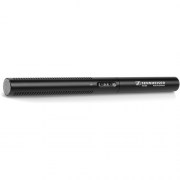 Sennheiser MKE 600 Shotgun Microphone
Sennheiser MKE 600 Shotgun Microphone ไมค์ช็อตกันคุณภาพสูงสำหรับบันทึกเสียงงานภาพยนตร์ ทีวี สารคดี
ใช้ไฟจากแบตเตอรี่ AA หรือ Phantom Power

ฟังก์ชั่นตัดเสียงรบกวนความถี่ต่ำที่ 100 Hz

ความไวในการรับเสียงสูง

ฟองน้ำกันลม

วัสดุโลหะแข็งแรงทนทาน

ที่ติดฮอทชูกล้องพร้อมกันสั่นในตัว

กระเป๋าผ้าอย่างดี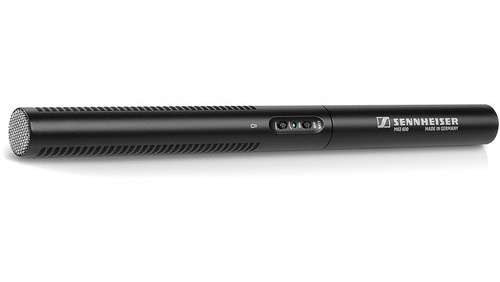 Features
For Indie Films, TV & Documentaries

AA Battery or Phantom Powered

Selectable 100 Hz Low-Cut Filter

Resists Structure-Borne Noise

Low-Noise Circuitry

High Sensitivity Requires Less Gain

Gentle Presence Boost

Windscreen Reduces Wind Noise

Lightweight and Rugged Metal Housing

Includes Shoe/Tripod Shockmount
Quality Sound
The 10" long MKE 600 uses an interference tube and a supercardioid/lobar polar pattern to provide pronounced directivity on-axis along with significant attenuation of sound entering at the sides and rear, making the MKE 600 far more effective at capturing distant sources than the omnidirectional mics found in most cameras.
Bass Roll-Off
The MKE 600 naturally reduces sub-bass frequencies below 40 Hz to prevent unnatural bass buildup. Activate the switchable low-cut filter at 100 Hz to roll off more low-frequency noise from common sources such as air conditioners and traffic.
Battery or Phantom Powered
Thanks to its 3-pin XLR output and compliance with 48 VDC phantom powering, the MKE 600 is compatible with a variety of handheld audio recorders, field recorders, and mixer adapters, as well as built-in preamps on many camcorders and cinema cameras.
When using devices that don't offer phantom power, the MKE 600 may be powered for up to 150 hours by a single AA battery (available separately). Approximately 8 hours of operating time remain once the low-battery indicator lights up red. Use the on/off switch to prevent unnecessary battery drain.
Ideal for Camera, Tripod, or Boompole Mounting
The MKE 600 includes a shoe shockmount for easy placement on your camera or a tripod. To mount the MKE 600 on a boompole or mic stand, use the Rycote InVision INV-HG mkIII shockmount (available separately), which will also impede the transfer of vibrations between your boompole/stand and the mic.
Windscreen Minimizes Wind Noise
The MKE 600 has a foam windscreen to reduce unwanted wind noise from breezes, fans, heaters, and air conditioners by up to 25 dB. Enhanced attenuation of wind noise is possible with the addition of an optional windshield such as the Rycote 15cm Super-Softie, which also provides high immunity to rain.
For maximum reduction of handling noise and wind noise in indoor or outdoor environments, consider a complete windjammer, windshield, and shockmount suspension system such as the Rycote Super-Blimp NTG or the large Rycote Super-Shield Kit (both available separately).
Specifications

Dimensions: diameter 20 mm, length 256 mm
Microphone: super-cardioid/lobar
Frequency response: 40 Hz to 20 kHz
Max. sound pressure level: 132 dB SPL at P48; 126 dB SPL with battery powering
Weight: 128 g (without battery)
Sensitivity in free field, no load (1kHz): 21 mV/Pa at P48; 19mV/Pa with battery powering
Equivalent noise level: 15 dB (A) at P48; 16 dB (A) with battery powering
Operating time: approx. 150 hrs
Power supply: 48 V +/- 4V (P48, IEC 61938) or battery/rechargeable batt. 1,5V/1,2V AA size
Current consumption: 4,4 mA at P48