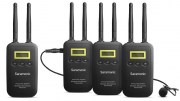 Saramonic VmicLink5 5.8GHz Wireless Lavalier Microphone Set 3
Saramonic VmicLink5 5.8GHz Wireless Lavalier Microphone ชุดไมค์ติดปกเสื้อไร้สายตัวส่ง 3 ตัว ตัวรับ 1 ตัว ส่งสัญญาณด้วยคลื่นความถี่ดิจิตอล 5.8 GHz ระยะทางไกลถึง 30 เมตร ช่องเสียบหูฟังสำหรับเช็คเสียง พร้อมถ่านชาร์จ 4 ก้อน และสายต่อเข้ากล้อง
The 5.8GHz provides high quality audio.
Record audio up to 30 meters away with no obstacle.
Automatic channel switch programme to avoid interference from multiple systems in the same environment.
With three discrete channel groups.
One receiver can work with up to three transmitters simultanously.
Line & Mic inputs provide wide range of input options.
Real-time headphone monitor jack.
Detachable and flexible antenna can be rotated 360°accordingly for best sound.
Rechargeable li-ion battery (included).