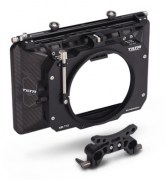 Tilta MB-T12 4x5.65" Carbon Fiber Matte Box (CLAMP-ON)
Tilta's MB-T12 is the ideal matte box for professional camera work! It features the perfect tools for on-the-go shooters and those who need to pair a matte box with a gimbal rig. The MB-T12 seamlessly attaches to any standard 114mm diameter lens. It even includes adapter rings for both 80mm and 95mm diameter lenses!
Features:
4×5.65 Carbon Fiber Matte Box(CLAMP-ON )
Number : MB-T12
Weight:2.6 lb
Color:Black
Material:Carbon Fiber,Aluminum-Alloy, Stainless Steel
Rail System:15mm
Light weight, yet durable, carbon fiber and aluminum construction
3x Panavision Standard 4" x 5.65" filter tray
5x Interchangeable front Interchangable front mattes of varying size
2x Adapter Rings designed to fit popular lens diameters
Includes 15mm dual rod mount adapter
Specifications:
Adaptor Size:     15mm (Rod adapter), 80mm, 95mm, 114mm (Adapter Rings)
Material:  Carbon fiber and aluminum
Shipping Dimensions:  13 x 10 x 5.15 in
Shipping Weight:    4.16 lbs.
Package including
 3pcs Panavision Standard 4" x 5.65" filter trays
 1pcs of top French flag
 80mm/95mm/114mm/134mm   Adapter Rings designed to fit popular lens diameters  
5pcs Interchangeable front Interchangable front mattes of varying sizes(16-20mm/24-28mm/32-35mm/50-85mm/85-180mm)
 Includes 15mm dual rod mount adapter