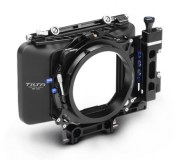 Tilta MB-T05 4x4" Lightweight Matte Box
The Tilta 4 x 4" Lightweight Matte Box easily mounts onto 15mm rods via its rod adapter. It features two 4x4" filter holders. The lightweight construction adds very little weight to your system, and the swing away design moves the matte box out of the way during lens changes, without having to remove the matte box from the rods.
The back of the matte box features a 114mm opening for lenses, and it comes with 80, 95, and 110mm diameter lens adapters, and a fabric donut (Nun's Knickers), which attaches to the 110mm adapter ring, for use with smaller diameter lenses. The lens adapters and fabric donut are used to prevent light from leaking from behind the lens and reflecting off filters and flaring your image. The matte box features a removable top flag (eyebrow) that attaches to a hinge so that you can precisely set the flag at the edge of frame to block light sources from flaring your frame.
15mm rod adapter to easily mount to industry-standard 15mm camera support systems
Swing away design allows you to move the matte box away and allows for easy lens replacement
Two 4x4" filter holders to add filters to your system
Removable top flag protects your lens from flare
Fabric lens donut (Nun's Knickers) for blocking stray light reflections from behind camera
80, 95, and 110mm diameter lens adapters for blocking stray light reflections from behind camera
Features
Application: HDSLR CAMERAS (Canon/Sony/Nikon/Panasonic/Olympus DSLR cameras
A WIDE RANGE OF HDV
4*4 mini portable matte box;
Two 360 degree rotatable matte box.
Matte box can move from front to back along the arrow.
Swing away function make it is easy to mount or change your lens;
It comes with 1 French flags
It can work with lens with diameter of 110mm and below;
It can work with any 15mm standard rig.
Material: Aluminum alloy, TPU
Fit Rail Distance: 60 mm
Fit Rod Diameter: 15 m
Specifications
Dimensions: 9.25 x 6.5 x 2.88"
Dimensions (Metric): 23.49 x 16.51 x 7.30cm
Shipping Weight: 4.2 lbs
Weight : 2.2 lbs
Included
with 2pcs of 4×4 filter holder
1pc of top French flag
15mm rod adaptor
Ф95mm/80mm lens adaptors
1pc of fabric lens donut