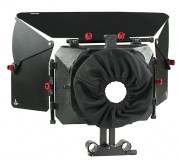 PROAIM MB-600 Camera Sunshade Matte Box
Add a level of professionalism with this versatile production matte box designed for all DV / HDV cameras with normal and wide angle lenses. Proaim MB-600 Camera Video Matte Box control light better than a regular lens shade and offer the videographer the ability to use high quality 4x4 filter (s) for image effects. This Camera Sunshade matte box is easily detachable, light in weight but is made up of strong material. It is simple and unique design avoids extra sunlight on the lens. It works same the lens hood. The dslr matte box comes with both 4:3 and 16:9 aspect ratios format so it can be used with both normal as well as wide angle lenses. Absolutely meet your needs and fits your budget!!
INCLUDED
-  MB-600 Camera Sunshade Matte Box with 4:3 & 16:9 format masks
-  Front Adjuster with 15mm rod clamp
-  Top Flag & Side flags 
-  2pc of rotating 4x4 Filter Holder (s) 
-  Knicker
SPECIFICATIONS
-  Format ratios - 4:3 & 16:9 (optional)
-  4x4 Filter Tray holder 
-  Central bracket attaches matte box to the 15mm rods
-  I/D of the matte box is 95mm
FEATURES
- French Flag & Side flags provide extra flare reduction & height adjustment.
- The weight of the DSLR matte box with rod support is 2.18 pounds.
- Aluminum Front Adjuster with quick lock mechanism for easy rods attachment.
- 100% Satisfaction Guarantee.
COMPATIBILITY
- Canon : XL1, XL2, GL1, GL2, XM1, XM2, XM1, hv20, hv30, 5D MARK II, 7D 
- Sony : PD 150,PD 170,VX 2100, VX 2000, VX 1000, DSR 250, DSR 200, HVR Z1E, HDR FX1, PD 100, Z1U E, V1U 
- Jvc : GY HD 100, GYDV 500, GYDV 550 / 700
- Panasonic : AG HVX 200, AG DVX 100 A, AG DVX 100B, AG DVC 62E, GH1
IMAGE GALLERY
Precise fitting tolerances
The Supportive accessories are for demonstration purpose only.