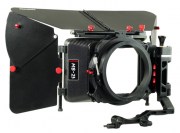 CAMTREE-MB-23 CF Swing Away wide angle Carbon Fiber Matte Box
Wider angles of acceptance on today's lenses require more control and elimination of extraneous light to paint the perfect picture
Our Camtree MB-23 matte box protect against knocks and scrapes and solidly holds and locks down everything even in steady wind when filming outdoor. Our new CAMTREE MB-23 wide angle Carbon Fiber matte box does all that and more over its lightweight, easy to use package that is Hi on features but low on cost. It solidly holds and locks down everything even in steady wind when filming outdoor. The matte box plays smartly thru angles with creative- boosting features.
Camtree MB-23 matte box accommodates various lens sizes with swing away feature for quick lens change. It has extra-long top flag to avoid lens flares and extraneous light. A fabric cover included also prevent light from leaking into the lens.
FEATURES
- Lightweight, rugged construction.
- Accommodates wide angle lenses.
- Easy to use, full swing away feature.
- Built in filter holder for advanced image capture.
- Fully adjustable flags.
- 180 degree rotation of 1 stage filter and other 1 is Static.
- 100% Satisfaction Guarantee.
Video is for demonstration only
Actual Product may vary due to Product Improvements
Included

-  MB-23 Wide Angle Carbon Fiber Matte Box
-  French and Side flags
-  Filter Holders
-  Knicker
-  Solid storage case
Specifications
Specs

MB-23-CF

Construction

Sunshade : Carbon Fiber
Flags,Swing away bracket:aluminum
Knickers : Black Fabric

Matte box Outer Diameter

105 mm

Matte box Dimensions

22.5 x 13.5 x 18.5 cms (l x w x h)

Depth

8.5 cm

Aspect Ratio

16:9

Height Adjustment

2cm

Knickers length

4inch

Filter Holders

Two 4x4". One is 180 degree rotatable & other is is static

Top Flag Dimensions

19 x 12.5 cms

 (Folded)


38 x 12.5 cms 

(Open)

Side Flag Dimensions

15.5 x 11.7 cms 

(Folded)


21.5 x 11.7 cms 

(Open)

Weight of Product (without packing)

1.200 kg (2.64 lbs)

Hard Case Dimensions

33 x 25.4 x 12.7 cms
FOLDABLE FRENCH FLAG
Adjustable long top flag for extra protection from lens flares and extraneous light.
KNOBS
These small red knobs are made from aluminium. It helps to tight the side and top flags.
HEIGHT ADJUSTER
The height of the camera matte box can be adjusted up to 2cm to match the camera lens.
KNICKER
A black-out fabric cover wraps around the barrel of your lens to block out any light completely.
SWING AWAY BRACKET
CNC made 15mm industrial standard Rod support swing away bracket for easy mount and quick lens change.
FILTER HOLDER
This professional swing away matte box has two 4x4 filter holder (s); perfect for polarizes and combination of square filters. Rotating filter holder enables user to eject or install square filter without disturbing microphone or flash settings.
Wholesome auxiliary for your camera lens
IMAGE GALLERY
A perfect production tool with multiple quality accessories and features
The package includes Camtree Swing Away wide angle Carbon Fiber Matte Box Only.
The Supportive accessories are for demonstration purpose only.