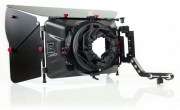 CAMTREE MB-20 CF Swing-Away Carbon Fiber Matte Box
Solid Construction
MB-20 CF is constructed from carbon fiber which provides high strength yet keeps the matte box lightweight. Aluminum built parts like French flags, side flags & swing away bracket, all together makes it stable and a long lasting product.
Adds Cinematic Effects
Foldable French Flag

The long top flag gives your camera extra protection from lens flares & extra lights. It can also be adjusted according to your setup requirement.




Side Flag

The side barn doors of the matte box feature height adjustment & offer efficient light control, allowing you to capture the sharp images.




Knicker

Knicker is a black-out fabric that covers the barrel of your lens to block out any external light completely.




Great Way to Color & Style Your Shots

The matte box comes with two 4x4 filter holders perfect for polarized and a combination of square filters. The filter holder allows you to remove or install square filters without disturbing microphone or flash settings. One filter is 180 degrees rotatable & the other one is static.




Flexibility
Supports Wide Range of Lenses

The matte box can be used with lenses up to 105mm in diameter which enables you to use a wide range of lenses.




Swing Away Mechanism

CNC machined swing away bracket allows you to change camera lenses without dismantling the entire matte box from camera setup. It gives you flexibility while shooting & saves your production time.




Height Adjuster

The height of the camera matte box can be adjusted up to 3cms to match with the camera lens.




IMAGE GALLERY
The Supportive accessories are for demonstration purpose only