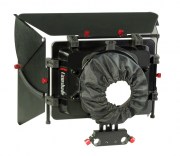 CAMTREE Camshade Video Matte Box
With designed features recognized by the professionals as must have parts, our newly crafted Camtree Camshade Video Matte Box exceeds the demands of cinematographers and videographers who seek the very best. Masterfully engineered Camtree Camshade Camera Sun Shade with its endless features and robust construction enables the user to get cinematic effects. It is completely adjustable and can be altered according to the requirement. The video matter box is compatible with any 15mm rod mount camera set ups like DSLR shoulder rigs or kits.
Specifications
-  Construction : Aluminum & Metal 
-  Filter Holder : built in 4" x 4" with removable locking tray 
-  Rod Adapter Dia : 15mm 
-  Outer Dia of matte box : 105mm 
Adds Cinematic Effects
FRENCH FLAG

The long top flag gives your camera extra protection from lens flares & extra lights. It can also be adjusted according to your setup requirement. Special slot solves the problem of easy dropping of flags.




SIDE FLAGS

The side barn doors of the matte box feature height adjustment & offer efficient light control, allowing you to capture the sharp images.




Knicker

Knicker is a black-out fabric cover that wraps around the barrel of your lens to block out any external light completely.




Great Way to Color & Style Your Shots

The matte box comes with a 4x4 filter holder perfect for polarized and square filters. The filter holder allows you to remove or install square filters without disturbing microphone or flash settings. 4" x 4" non-rotating Filter Holder with removable locking tray is perfect for square filters.




Height Adjuster

The height of the camera matte box can be adjusted up to 2.5cms to match with the camera lens.




IMAGE GALLERY