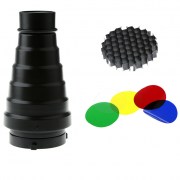 Snoot with Grid Color Filter Kit
Flash Conical Snoot Honeycomb Grid Color Filter Kit for Bowens Mount Studio อุปกรณ์บังคับทิศทางแสงให้ไปตามทิศทางที่ต้องการ ใช้ร่วมกับไฟแฟลช, ไฟสตูดิโอ, ไฟ LED เมาท์ Bowens มาพร้อมรังผึ้ง และเจลสี 5 แผ่น (ขาว, เขียว, เหลือง, แดง, น้ำเงิน)
Specifications:
Snoot is designed to help you focus on light and identify product details.
Equipped with honeycomb, it is more convenient and accurate.
Compatible with for Bowens mount studio lighting photography.
Five color filters work at different color temperatures.
Perfect photography tool kits to help create a unique image for you.
Item Name: Snoot Photography Kit
Material: ABS
Compatible with: for Bowens Mount Studio Lighting Photography
Features: Portable, Easy Installation, with Honeycomb, 5 Color Filters
Honeycomb Diameter: 5.5cm/2.17" (Approx.)
Snoot Diameter: 9.8cm/3.86" (Approx.)
Full Size: 20cm x 10.5cm x 10.5cm/7.87" x 4.13" x 4.13" (Approx.)
Package Includes:
1 x Snoot
1 x Honeycomb
5 x Color Filters