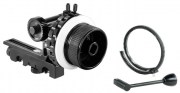 Proaim HS-1000 15mm Follow Focus with Hard Stops
Proaim introduces its most durable Aluminum constructed HS-1000 follow focus allowing you to smoothly and accurately pull focus with cinema and DSLR lenses equipped with gear rings. Integrated Hard stops will let you set start/end points on DSLR lenses for quick focus racking between two focus points. Additionally, the Follow Focus DSLR features movable indicators which allow pulling focus from the different place on the camera. The included magnetic marking disk enables to view your focus marks from various angles. The Speed Crank switches your follow focus unit to crank operation. Elevate your craft; create awesome and effective shots with professional-quality product.
Specifications
- CNC made Aluminum Construction
- Gear Arm adjustable distance: 5.5 cm
- 43T 0.8 Mod Pitch Gear 
- Gear Material: Aluminum
- Fit Rail Distance: 60 mm
- Fit Rail Diameter : 15 mm
- Product Weight (without packing): 690gm / 1.53lb

 

Gear Belt

The flexible Gear Belt can be used with industry standard 0.8 module with any zoom or prime lenses with a wide range of lens diameters (any size from 46mm to 110mm).
 

Hard Stops

Integrated A/B Hard stops for precise focusing points. These hard stops can also be detached while not in use. Variable locking mechanism allows quick adjustment of start and end points.
 

Adjustable Arm

The Adjustable Arm provides Horizontal adjustment up to 5.5 cm to match with wide angle lenses.
 

Quick Mounting

Clamping mechanism allows quick, convenient and easy mounting of Follow Focus on any standard 15mm rail rod support. You can mount and dismount the Focus system without dismantling the entire system.
 

Magnetic Marking Disc

The marking disc enables to view your focus marks from various angles.
 

Speed Crank

The system comes with a Speed Crank for precision-controlled manual focus racking.
Both Sides Operation

You can switch between right and left operation by switching the drive gear.
IMAGE GALLERY
Enjoy razor sharp focus pulls without touching the lens barrel of your camera