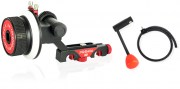 PROAIM Follow Focus X9 Gear
The Proaim X9 Follow Focus with Hard Stops can be easily turned on/off and easily fits to different lenses. This allows you to achieve perfect focus every time. You can also switch the gear on both left and right side. All the components were made by precise CNC machines.
The follow focus is compatible with all 15mm rail rod DSLR shoulder mount rigs. The Speed Crank simply switches your follow focus unit to crank operation. Simplified design gives the operator more comfortable way to manually control focus that makes it the most versatile follow focus in the market.
Specifications
-  13" Long Gear Belt works on any prime or zoom lens.
-  Unique locking method prevents slippage.
-  Precise CNC machined components.
FEATURES
-  Integrated hard stops with easy begin/end setups enable fast repeatable racking between two focus points, thus achieving perfect focus.
-  Flexibility for use with a number of lenses with varied diameters.
-  Compatible with all industry-standard 15mm rod-based camera support systems.
-  Solid and well-made piece of equipment delivers incredibly accurate focus pulls.
-  Allows extremely focusing lenses to be geared and used with Follow Focus industry standard 0.8 module.
QUICK RAIL MOUNT

Proaim X9 follow focus features a quick rail mount that allows easy and speedy mounting or removing of the follow focus without removing / disturbing any other accessories.
SLIDING BASE

Proaim X9 follow focus has a sliding base that slides to accommodate different lens diameters. It can be adjusted upto 5cm.
FOCUS GEAR RING BELT

The Professional FLEXIBLE Follow-Focus GEAR RING BELT can be used with all lens types from Canon, Nikon, Sony, RED and more. Mounts to all DSLR cameras, video cameras, HDV, DV, and HD/SLR cameras with a movie function.
SPEED CRANK

We provide you speed crank with universal fit, lightweight super stiff durability.
IMAGE GALLERY