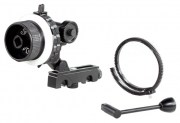 Our zero backlash, metal crafted, quality Flip follow focus by Proaim is a single-sided follow focus with a variable lock system and a base that slides to accommodate different lens constructions. It gets clamped to 15mm rods via tightening mechanism controlled by underside knob and offers integrated hard stops for quick focus racking between two focus points. Additionally, it features a moveable focus indicator to pull focus from any place on the camera while maintaining the view of focus indicator & focus wheel. Magnetic marking disk enables to view your focus marks from many angles. The flippable gearbox adjusts the drive gear front and rear and is compatible with lenses of any size. An industry standard focus whip socket is available on the follow focus wheel for optional focus whips to be used by an assistant.
INCLUDED
-  Proaim Flip Follow Focus
-  Flexible Gear Belt
-  Speed Crank
SPECIFICATIONS
-  Gear Arm adjustable distance - 3.8 cm
-  Fit Rail Distance - 60 mm
-  Fit Rail Diameter - 15 mm
-  CNC made Aluminium Construction
-  Nylon gears and ABS 360 degree Dial Index Adjustment
-  Weight - 730 gm/1.606 lbs
FEATURES
- Professional Hi-Grade construction.
- Clamp-On 15mm Rod-Mount Follow Focus.
- Front- or Rear-Mount Drive Gear.
- Adjustable Meshing to Eliminate Backlash.
- Horizontally Adjustable to Most Lenses.
- Integrated A/B hard stops for accurate focusing.
- Variable Lock Mechanism allows quick adjustment of start and end points.
- Interchangeable Drive Gears for right hand and left hand operations.
- Allows extremely focusing lenses to be geared and used with Follow Focus industry standard 0.8 module.
- 100% Satisfaction Guarantee.