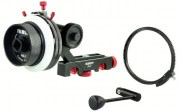 Filmcity HS-2 Follow focus with Hard Stops
Filmcity HS-2 Follow Focus With Hard Stops ฟอลโล่โฟกัสสำหรับชุดริกกล้องวีดีโอ, DSLR, Mirrorless ยึดเข้ากับท่อขนาดมาตรฐาน 15 มม. ฟังก์ชั่นมาร์กจุด Hard Stop A/B กำหนดจุดหยุดได้ตามต้องการ เฟืองสามารถสลับใช้งานได้ทั้งสองฝั่ง แถมเฟืองรัดเลนส์ และก้านโยก Speed Crank
HS-2 follow focus is designed to perform the precise focus pulls to ensure each shot is as crisp and in focus as possible. CNC machined from aluminum provides you with years of successful operation. Fully featured this follow focus allows right and left operation by switching drive gear. Moreover, it is compatible with industry standard 15mm rail system. 


Video is for demonstration only
Actual Product may vary due to Product Improvements

Specifications
-  CNC made Aluminum Construction
-  Gear Arm adjustable distance: 4 cm
-  Fit Rail Distance: 60 mm
-  Fit Rail Diameter: 15 mm
-  MOD Drive Gears with industry standard 0.8mm Pitch & 43T 
-  ABS 360 degree Dial Index Adjustment
-  Product Weight (Follow focus, Gear ring, Speed crank): 540gm/1.19lb
-  Weight(With packing): 810gm/ 1.78lb
-  Dimension: LxWxH 24.5cmx20.5cmx11.5cm 
Gear Box

The custom-designed gears and gearbox offer slack-free performance for accurate focus pulling. The Flippable Gearbox adjusts the drive gear front and rear. It also offers MOD drive gear with industry standard 0.8mm Pitch & 43T can work with different size gear to meet you need with different lens.
Hard Stops

Integrated A/B Hard stops for precise focusing points. These hard stoppers can also be detached while not in use. Variable locking mechanism allows quick adjustment of start and end points.
Adjustable Arm

The CNC machined Adjustable Arm for Follow Focus increases the height of your Follow Focus to make it fit taller cameras and makes it compatible with wide angle lenses also.
Gear Belt

The flexible Gear Belt can be used with any zoom or prime lenses with a wide range of lens diameters (any size from 46mm to 110mm). It connects to the Follow Focus precisely.
Speed Crank

Follow Focus Speed Crank lever used to perform quick and deliberate focus racks. The lever easily attaches to the inside core of the focus knob and perpendicularly extends outward. The crank lever is especially useful for assistant camera operators by comfortably giving them maximum control.
Magnetic Marking Disc

The 3D marking disk allows you to view your focus marks from many angles. You can use the marking disc in low-light conditions using an optional flare, which offers a glow and illuminates the marking disc.
Quick Mounting

The mounting and dismounting of this Focus system is quick, convenient and easy. You can mount and dismount the Focus system without dismantling the entire system.




IMAGE GALLERY
Achieve hassle free focus with our elevated technique
The Supportive accessories are for demonstration purpose only.