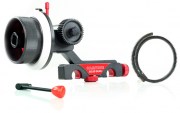 CAMTREE Solid Gear Follow Focus
Camtree Solid Gear Follow Focus ฟอลโล่โฟกัสสำหรับกล้องวีดีโอ, DSLR, Mirrorless ประกอบเข้ากับชุดริกด้วยท่อขนาดมาตรฐาน 15 มม. แบบปลดล็อคเร็ว แผ่นมาร์คแม่เหล็กถอดเข้าออกสะดวก มาพร้อมเฟืองรัดเลนส์ และก้านโยก Speed Crank
Designed to give slip-free, accurate and repeatable focus movement on a wide range of cameras.

Our custom and truly exceptional gear box handles cinema and still lenses with fluid, smooth precision. Unique backlash adjustment enables Follow Focus to be easily tuned in the field, bringing it back to "new" performance levels, simply allow you to tune up as much as you like. Uniquely tuneable and exactly gets you the feel you want, time after time, with virtually any lens. Incredibly valuable gear gives you a lifetime of great follow focus performance.
Achieve smooth professional focus pulls with this versatile accessory for any DSLR camera rig! Camtree Solid Gear Follow Focus incorporates new designs and technologies to deliver an incredibly solid, accurate, highly repeatable follow focus ideal for any level of production. It is an essential accessory for any professional DSLR camera setup, allowing for quick precision focusing with minimal lens shake. 

The gear-driven follow focus mechanism ensures that you get smooth and perfect focus control which you need to give your footage and also the look of a big budget movie production. The white ring surrounding the focus wheel is used to achieve repeatable, accurate focus pulls. Marks are jotted down during rehearsal, so that focus pulls can be repeated according to the marks during the actual shoot. This kit includes CAMTREE Solid Gear Follow Focus with FREE flexible gear ring.
Video is for demonstration only
Actual Product may vary due to Product Improvements
This follow focus is equipped with a removable magnetic white ring for marking, it makes it much easier to clean.
Allows you to view your focus marks from many angles
SOLID GEAR FOLLOW FOCUS

CAMTREE Solid Gear Follow Focus is a lightweight and affordable follow focus solution for DV/HDV/DSLR cameras. This kit includes CAMTREE Solid Gear Follow Focus with FREE flexible gear ring . This model is devoid of unwanted backlash between the flywheel and the wheel output shaft, the same output gear gives you a quick and easy way to translate the other side.
 

QUICK RAIL MOUNT

The design of the clamp allows you to quickly mount or remove the follow focus unit from your Blackmagic rig without disturbing any other accessories attached to the rail system. To mount the unit, loosen the horizontal knob and release the clamps, allowing you to snap the focus assembly from your camera rig kit.
 

ARM ADJUSTMENT

Loose the vertical knob and adjust the accurate position as per your requirement.
 

FOCUS GEAR RING BELT

The Professional flexible Follow-Focus gear ring belt can be used with all lens types from Canon, Nikon, Sony, RED and more. Mounts to all DSLR cameras, video cameras, HDV, DV, and HD/SLR cameras with a movie function
 

SPEED CRANK

We provide you speed crank with universal fit, lightweight super stiff durability.
IMAGE GALLERY
Allows precise focusing of still and cinema lenses
Compact and stylish, delivers exceptional performance
The Supportive accessories are for demonstration purpose only.