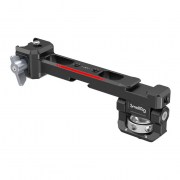 SmallRig Monitor Mount with NATO Clamp for DJI RS 2/RSC 2 3026
SmallRig Monitor Mount with NATO Clamp for DJI RS 2/RSC 2 3026 ที่ติดจอมอนิเตอร์สำหรับกิมบอล DJI RS2 / RSC2 ปรับมุมได้ พร้อมรูน๊อต 1/4" และฮอทชูสำหรับติดอุปกรณ์เสริม
Key Features:
1. Designed for DJI RS 2/RSC 2 stabilizer.
2. Plentiful mounting options for attaching a monitor, action camera and sound receiver, etc.
3. Monitor can be adjustable with a tilt angle of about 165° and can be stopped at any angle without tools.
4. Build-in 1/4"-20 threaded holes, dual cold shoe.
5. Clamps to each side of RS 2&RSC 2 via quick-release NATO clamp with anti-removal stud.
6. Matte surface perfectly matches with the industrial design of the stabilizer.
SmallRig Monitor Mount with NATO Clamp for DJI RS 2/RSC 2 3026 is designed for adding accessories on both sides of the stabilizer, such as to monitor, light, sound receiver, wireless device, action camera, etc. Monitor mount can be installed on two sides of the stabilizer by NATO clamp and features an anti-removal stud to protect your devices from falling. There are two 1/4"-20 threaded holes on top of the monitor mount, and one 1/4 threaded hole on side of it, which can be attached with Magic Arm 2163 for action camera or other rigs. On top and bottom of it, there is one cold shoe mount that can be attached with a sound receiver, microphone, light, etc. The monitor mount is adjustable for 165° and can be stopped at any angle. With its compact structure and consistent design to match RS 2, it is a perfect match with the stabilizer.
Notice: max. payload 1.5kg
Designer: Yetta White
Compatibility:
DJI RS 2
DJI RSC 2
Packing List:
1 x Monitor Mount
1 x Allen Wrench
Product Dimensions: 134 x 42 x 52.5mm
Package Dimensions: 185 x 55 x 55mm
Net Weight: 113g
Package Weight: 161g
Material: Aluminum Alloy