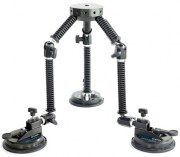 Get into the action by attaching your camera to unlikely places!
There were times when it was quite difficult for the director to capture the shot at unlikely places such as in tight interiors of a car or an elevator, exterior of moving vehicle or even the outside of an airplane. To capture such shots, the director was confined to a studio interior. Capturing these shots has become easy with G-51 gripper. It lets you add tremendous impact to your shots, increasing the production value while giving you an incomparable freedom to shoot with safety, style and precision.
Included
- 3 x Gripper Suction Cups + Complimentary Dust Covers
- Camera Mount Hub
- 6 x 6" Extension Rods
- 3 x 3'' Extension Rods
- 6 x Ball Tilt Heads
- 2 x Safety Wires
- 3 x Shanks for Gripper Cups
- 2 x Round Hooks
- 2 x C-hooks
Specifications
- High-Grade Quality Construction
- Load Capcity at (Running Position): 10kg/ 22lb
- Load Capcity at (Static Position): 20kg/ 44lb
- CNC Constructed Camera Mount Hub
- 3pcs of Strongly Gripped Suction Cups
- Hub Camera screw- 1/4"-20, 3/8''-16
- Rope for extra grip and security
Features That Let You Capture Unconventional Shots
Industrial Grade Suction Cups

The high-quality suction cups get easily affixed to any smooth surface with a sure lock lever system. It provides you with a fully secured & stable grip letting you capture shots at complicated places while keeping your camera set up completely safe.




Ball Tilt Head

The legs get attached to the ball tilt head which gives you the flexibility to mount the setup at any angle.




Camera Mount Hub

Aluminum constructed camera head safely accommodates camera set up .




Extension Rods

Comes in two sizes (3 & 6 inches) with ¼" male and female connectors for a perfect fit and stable base.




Free Dust Cover

To provide maximum surface adhesion, dust covers are given to eliminate any exposure to dust.




Ratchet Wires & Hooks

Ratchet wires & hooks provide the set up with the second layer of security to make your camera set up 100% secure.




IMAGE GALLERY
The Supportive accessories are for demonstration purpose only.