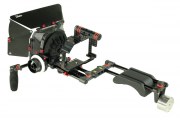 FILMCITY Kit for GH3/GH4, Sony A7/A7r/A7s
In order to excel the functionality of your Panasonic lumix and Sony cameras, Filmcity proudly unveils its peculiar Panasonic lumix GH3/ GH4 and Sony A7/A7r/A7s camera cage shoulder mount kit to give your every shot a more refined & professional feel. The robust cage not only covers your camera for multiple mounting choices but also keeps it protected. The sturdy Top handle allows front and back positioning as per your shooting needs, locking clamp prevents accidental cable disconnects and shoe mount with 1/4"-20 threads fully optimizes your cage.
The well-engineered base plate lets you easily switch your camera from tripod to handheld and can move back and front easily. The ergonomic shoulder pad with counter balance ensures comfort for long durations and also maintains the balance. Not just that, it comes with a fully functional follow focus that provides accurate focus pulls, a matte box for adding cinematic effects.
FILMCITY MB-600 VIDEO MATTEBOX 
Filmcity Mattebox comes with both 4:3 and 16:9 aspect ratios format so it can be used with both normal as well as wide angle lenses. 4:3 and 16:9 ratio mask can easily be attached or removed from shoulder mount with four small screws. 
FILMCITY HS-2 FOLLOW FOCUS
(Revised on 22-Sept-2016)
Filmcity HS-2 with hard stops is a follow focus designed for film and video cameras. The unique system allows easy operation from both sides, making it highly accessible in a variety of situations. It makes critical focus pulling a breeze. Body is constructed from anodized aluminum which is strong and lightweight and provide long life durability. It comes with easily functionable knobs to customize it according to your convenience. Integrated hard stops with simple begin/end setups enable fast repeatable racking between two focus points. Custom design makes it versatile and gives operator the comfortable way to manually control focus. 
Agile and smooth with great focusing technique
SHOULDER RIG
Our Fully functional Filmcity Shoulder support rig features CNC machined aluminium Camera Cage with 15mm rail support and enables comfortable long hour shooting.
-  Dual Handles gives you a powerful grip so you don't have to worry about slippage.
-  Comfortable Shoulder Support Pad with counter weight easily fits into the industry-standard 15mm accessory that ensures perfect balanced shooting.
-  The High Strength Polymide resin 15MM Straight Bracket and Z-bracket allows you to center align the camera at an eye line.
-  The counter weight properly balances the rig and helps to get stable steady video shots for the long time.
FILMCITY CAMERA CAGE FOR PANASONIC LUMIX GH4/ GH3 and SONY A7/A7r/A7s CAMERAS
The Filmcity Cage is CNC milled from high grade aluminum and hard anodized for durability. It features a myriad of 1/4" mounting points along the top, sides, and bottom. With the camera in the cage, you still have access to the SD card slot, battery compartment, so you won't have to waste time removing the camera from the cage during a shoot.
Elegantly formulated with quality assured
TOP HANDLES

Top handle is made from aluminum. It has right/left adjustments.
CAMERA MOUNTING PLATE WITH BASE EXTENSION

Quick mount & removal of camera with the help of the camera mounting plate consisting of 1/4" standard screws with 15mm Rods Adapter.
15MM ROD ADAPTER CLAMP

This 15mm rod adapter clamp with 60mm central distance perfectly works with 15mm industrial standard rods.
TRIPOD MOUNTING

The 15mm Tripod Mounting base having both 1/4"-20 & 3/8"-16 threaded holes for standard tripods. This base is complete made of black anodized aluminum. The knobs are aluminum silver anodized.
ANTI TWIST
Anti-Twist front stops on the forward edge of the cage that aligns the GH3/GH4 Camera parallel to the cage.
IMAGE GALLERY
The Supportive accessories are for demonstration purpose only.