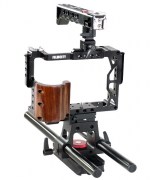 Filmcity Cage for Sony a7R II, a7S II, a7 II
Filmcity Camera cage for Sony a7R II, a7S II, & a7 II is custom-designed to protect and stabilize your Camera while providing access to all ports and controls. It adds a top handle for comfortable handheld shooting with your camera and it can articulate in different direction. The Camera cage is constructed from high grade aluminum and features multiple 1/4"-20 threaded holes on all sides, allowing you to attach a variety of accessories as well as side handles. It comes with a sliding base plate with a pair of 15mm rods and a rod adaptor for enhancing mounting capabilities. Our Filmcity Camera cage enables the possibilities of shooting anything anywhere.
INCLUDED
-   Filmcity a7R II, a7S II, & a7 II Camera cage 
-  Top handle 
-  Rod adapter 
-  Base Plate 
-  2 x 150mm Male threaded Rods(Revised on 05-Jan-2016) 
-  2 x 150mm Female threaded Rods (Revised on 05-Jan-2016) 
-  Foam Packing
SPECIFICATIONS
-  CNC made aluminium construction Camera Cage 
-  Compatible with a7R II, a7S II, & a7 II 
-   Top Handle and side mounts of 1/4" and 3/8" -16 holes for mounting accessories 
-   15mm Rod Adapter
-  Product weight: 500g/1.1lb
-   Tripod Mounting: 1/4"-20 & 3/8"-16 both 
-   Camera Mounting Bolt: 1/4"-20 
FEATURES
-  Form Fitted Anodized Aluminum cage.
-  Multi-threaded Cage with removable Top Handle.
-   Charge the battery without removing the camera.
-   Surrounds, protects, and stabilizes the camera body. 
-   Stylish walnut handgrip offers a comfortable grip.
-   90° top handle rotation.
-   cable clamp for mounting any sort of wire on multiple locations.
-  Shoe mounts for attaching various accessories.
-  Easy access to all ports.
Lightweight Cable clamp secures dropping of cable on cage
SLIDING BASE PLATE
Camtree sliding base plate can be mounted on Manfrotto, Cine and Sachtler heads.
Rock solid design with unending mounting options
FOAM PACKING
Foam fitted packing the box to provide safe storage.
Dimension:-LxWxH  21.5cmx32cmx9.7cm
Weight(With packing):1.520kg
IMAGE GALLERY
The Supportive accessories are for demonstration purpose only.