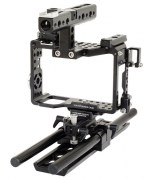 CAMTREE Hunt Handheld Cage for Sony A7 / A7S / A7S II / A7R / A7R II
Camtree Hunt camera cage for SONY a7, a7 II, a7S, a7S II, a7R, & a7R II is the only form fitted cage compatible with all six versions of the Sony a7 camera series.The cage is custom-designed to protect and stabilize your Camera while providing access to all ports and controls. Ergonomically designed adjustable Top handle enhances handheld operations.CNC machined aluminium constructed cage offers strength & durability and multiple mounting threads allow you to attach variety of accessories.It comes with a dovetail base plate with 15mm rod adaptor and a pair of 15mm rods for enhancing mounting capabilities. Our Camtree Hunt cage enables the possibilities of shooting anything anywhere.
Quality Construction

Hi Strength CNC machined aluminium constructed camera cage provides stability and adds protection to the camera.
 INCLUDED
-  Camtree Hunt Handheld Camera Cage 
-  Top handle 
-  Cable clamp 
-  Rod adapter 
-  Dovetail Plate 
-  2 x 300mm Female threaded Rods 
-  Foam Packing
SPECIFICATIONS
-  Construction: CNC aluminum 
-  Compatible : A7 / A7S / A7S II / A7R / A7R II 
-  Accessories mounting: 1/4"-20 and 3/8"-16 
-  Tripod mounting: 1/4"-20 and 3/8"-16 
-  Camera mounting: 1/4"-20 
-  Product weight: 1.80kg/3.96lb 
-  Internal Dimension W x H : 130mm x 93mm
Sony a7 series compatibility

The camera cage is custom-designed to perfectly fit the complete range of Sony a7 camera series. The cage adds security and safety to the camera set-up while shooting.
NATO Adjustable Top Handle
Top handle can be oriented either on the front or on the top of the cage and can be easily adjusted to fit your audio unit. It also offers numerous 3/8"-16 and 1/4"-20 threaded holes and a cold shoe mount for accessory mounting.
LOADED WITH FEATURES
Arri Standard Rosette mount






Durable ARRI Standard Rosette gear
is mounted on the side of the cage
for using compatible handle.

Camera Strap Access





Features metal clamp for your
camera strap on the cage which
adds extra support

Cold Shoe






Metal cold shoe mount provides you the option for attaching various accessories on the cage.
15MM Rod adapter clamp





15mm rod adapter clamp securely locks
and unlocks the camera cage with the
help of locking lever.

HDMI plug protector clamp





HDMI clamping mechanism locks
your cable securely and prevents 
accidental disconnects.

15 mm Threaded rods





Includes Aluminum black anodized
15mm industrial standard female 
threaded Rods.
Lens support adapter

Lens support system is integrated into the baseplate which provides support to large and heavy lenses. You can adjust the height of the lens support to match your lens requirement.
Quick Release Baseplate

The Quick Release baseplate design provides secure and sturdy mounting of your camera cage. It allows the cage to quickly & easily attach or detach from the baseplate.





The Quick Release base is  compatible with

Arri BP8 and Arri BP9 Bridgeplates.
Easy battery Accessible

Cage offers Quick and Easy access to the battery without removing the camera from the cage.
Versatile Shooting Platform

Fully functional camera cage is designed to allow camera operators to quickly and easily switch from handheld to shoulder mount or tripod mount.
Mini Quick Release plates
Two specifically designed mini plates are provided considering the difference in design and base connection points for mounting any A7 series cameras. 
Attach the compatible plate to the camera for quick mounting and dismounting on the base plate.
FOAM PACKING
Foam fitted packing the box to provide safe storage.