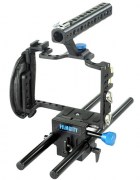 Filmcity Lightweight Cage with Rod Support for GH4
In order to excel the functionality of your Panasonic lumix, FILMCITY proudly unveils its peculiar Panasonic lumix GH3/ GH4 camera cage to give your every shot a more refined & professional feel. The robust cage not only covers your camera for multiple mounting choices but also keeps it protected. The sturdy handle allows front and back positioning as per your shooting needs, locking clamp prevents accidental cable disconnects and leather hand strap ensures complete control to camera with comfort and stability. Prosumer operators in many non-broadcast areas like wedding photography/video, corporate communications and POP production, are it to produce 'stills' and video alike.
INCLUDED
-  Filmcity Panasonic Lumix camera cage
-  15mm Base Adapter
-  Top handle
-  2 x 300mm Female Rods
-  Hand Strap
SPECIFICATIONS
-  CNC made aluminium construction
-  Compatible with Panasonic Lumix GH3, GH4 
-  1/4"-20 Camera mounting bolt
-  1/4"-20 and 3/8"-16 holes for mounting accessories
-  15mm Rod Adapter
-  Adjustable height riser
ADJUSTABLE HANDLE
Filmcity handle can be attached on front and back in the cage. There are 1/4" & 3/8" mounting holes and cold shoe mount.
Flexible handle allows front and back positioning as per your needs
CABLE CLAMP
Cable clamp can provide strain relief for power, and other cables where frequent tugging could cause damage to the camera.
Provide secure grip and prevents accidental disconnects
HOT & COLD SHOE MOUNT
The Hot Shoe Adapter is an all-metal micro clamp designed specifically for off-camera flashes. It comes equipped with a variable tension knob that locks securely around any flashes "foot" for a snug fit. The bottom of the adapter is tapped with a 1/4"-20 thread for easy mounting.
Allows easy connection between accessories and camera
HAND STRAP
Hand Starp allows the photographer to control the camera with greater ease and accuracy
BASE CLAMP & BATTERY RELEASE
A tripod stand and Ball head could be mounted directly. Phenomenal design allows easy battery release without getting into the way of your camera function.
Tripod mounting capability lets you enhance your productivity
COMPATIBLE WITH:
Panasonic Lumix GH3, GH4 camera
IMAGE GALLERY
Brilliantly designed with, myriad mounting options
The Supportive accessories are for demonstration purpose only.