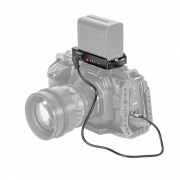 SmallRig NP-F Battery Adapter Plate With Charging Cables for BMPCC 4K & 6K Cameras EB2698
SmallRig NP-F Battery Adapter Plate With Charging Cables for BMPCC 4K & 6K Cameras EB2698
อแดปเตอร์แบต Sony NP-F สำหรับกล้อง Blackmagic Pocket Cinema Camera 4K, 6K BMPCC4K, BMPCC6K พร้อมช่องจ่ายไฟ DC 7.4V และ 12V และแบตเตอรี่ดัมมี่ LP-E6
Key Features:
1. Sony NP-F Battery Plate for BMPCC 4K & 6K. 
2. Two DC Outputs – 7.4V and 12V.
3. Two Charging Cables – LP-E6 Dummy Battery Cable and DC-2 Pin Cable.
4. Battery Connection Indicator and Battery Life Indicators.
5. Mounts to Camera Rig with a 1/4 Thumbscrew or Two Hex Screws.
SmallRig NP-F Battery Adapter Plate With Charging Cables for BMPCC 4K & 6K Cameras EB2698 features two DC outputs 7.4V and 12V to power your camera, greatly extending shooting time. It comes with an LP-E6 dummy battery charging cable and a DC-2 Pin charging cable connected to your BMPCC 4K or 6K cameras. The battery plate is constructed with durable aluminum and features a soft rubber pad on the bottom for anti-twisting purposes. You can mount the plate to the camera rig using a 1/4"-20 thumbscrew or two 1/4"-20 hex screws. On the side of the plate are the battery connection indicator (Blue) and the three-level battery life indicator (Yellow) for checking charge status. The battery life indicators will turn off after three seconds, and the last lamp will begin flashing at 10% to alert you about a low battery.
Designer: Peiwen He, Bear
NOTE:
1. Please plug the cable to the corresponding DC output: LP-E6 to 7.4V, DC-2 Pin to 12V;
2. Press the button on the side to learn the approximate remaining power of the battery. The lamp will light for about 3 seconds.
3. The NP-F battery is NOT included in the product.
Compatibility:
BMPCC 4K & 6K
Sony NP-F Battery
Package Includes:
1 x Battery Plate
1 x DC-2 Pin Cable
1 x LP-E6 Cable
2 x 1/4 Screw
1 x Hex Spanner
Product Dimensions: 94 x 46 x 18mm
Package Dimensions: 100 x 120 x 50mm
Net Weight: 86g±5g
Package Weight: 120g±5g
Material(s): Aluminum Alloy