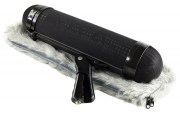 PROAIM BMP40 R Blimp Mic Windshield
PROAIM Blimp BMP40R แคปซูลครอบไมค์ช็อตกันพร้อมด้ามจับและกันสั่นในตัว ขนแมวกันลมอย่างดี สำหรับไมค์ความยาวไม่เกิน 40 ซม.
Say good-bye to unwanted noise and shock vibrations now! Whether you are shooting a wedding or world news or an outdoor event, you need a professional audio. Not only will the production team appreciate great recordings, but even the mixing engineers in the music industry will highly value the clean recordings. With Proaim Microphone Blimp, it's easy to take shots on a breezy day. Clear sound recording from a helicopter is no more a challenge now! The Proaim Microphone Blimp Windshield cut down on the wind and protects the mic from jarring noises. It is light and performs beautifully. Essentially a hollow cage with an acoustic cover, they create a volume of still air that surrounds the microphone. An elastic microphone suspension system further isolates the mic from the cage. Refinements to our BMP40R make it ideal for outdoor use for Audio Recordings, ENG, Film and Video production.
INCLUDED
-  40cm Blimp windshield with microphone suspension and handle 
-  Bonus 6 pc. Boom Pole Adapter Set 
-  40cm Synthetic Fur Cover 
-  6pc Mic Holders 
SPECIFICATIONS
-  ABS constructed Pistol Grip handle with XLR cable connection 
-  Accommodates Mics up to 24mm in diameter and 12" in length 
-  40cm synthetic fur cover for additional audio control 
-  15mm to 25mm 6 pc mic holders
FEATURES
-  Rugged yet lightweight modular construction 
-  Entire Mic Zeppelin and microphone suspension system disassembles 
-  Easy to set up - easier to use 
-  Best when used for outdoor applications 
-  12 shock absorber/3 support ring - microphone suspension 
-  Boom pole adapter set 
QUICK ASSEMBLY & SET UP
Exclusive of MIC
INTEGRATED SHOCKMOUNT AND WINDSCREEN
The integrated shockmount and foam windscreen minimize handling and wind noise to 
keep your recordings crystal clear
FUR COVER
Designed to reduce wind noise when recording in adverse environmental conditions.
Eliminates windy noises thereby providing pristine audio recordings
Note : Inner Color may vary as per availability
COMPATIBLE MICROPHONES
Rode-NTG-1 
Audio-Technica - AT897 
Audio-Technica-AT4073A
Neumann - KMR 81i
Sanken - CS-1
Schoeps-CMIT-5U
Schoeps-CCMC6 Microphone Preamp
Sennheiser -MKH416 / MKH415 
Sennheiser -MKH418S 
Sennheiser -MKH60 
Sennheiser -ME66 
IMAGE GALLERY
Reduces the wind noise without interfering with the desired
The Supportive accessories are for demonstration purpose only.