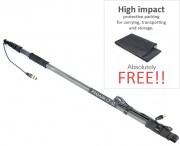 PROAIM 12ft Carbon Fiber Boompole 20ft XLR Cable
PROAIM Boom Pole Carbon Fiber ก้านไมค์บูมคาร์บอนไฟเบอร์น้ำหนักเบาเป็นพิเศษ ขนาดยาว 12 ฟุต พร้อมสาย XLR ยาว 20 ฟุต ร้อยภายในเพื่อความสะดวกในการใช้งาน
PROAIM™ Introduces the new Carbon fiber boom pole for Processional Action recording. - this audio unit incorporates a direct XLR connection to the boom pole. This New BP12 C carbon-fiber boom poles: came with three sections.
This handy accessory eliminates the hassle of messy cables or the need for extra connections. Our this new version of Carbon fiber boom pole comes with 3/8x16 thread screws on the first end of the pole.
INCLUDED
-  12ft Carbon Fiber Boom
-  20ft Long XLR Cable
-  Travelling Bag
SPECIFICATIONS
-  Length of the Pole -12ft
-  Diameter of the Boom Pole - 29mm
-  Color of Boom Pole - Grayish Black
-  Length when collapsed - 3.6ft
-  Size of each section of the Pole -3ft
FEATURES
-  Extends up to 12ft.
-  Precision machined.
-  No assembly is required.
-  You can set it for any length in between.
-  Internally wired boom poles with Male XLR cable plug at base.
-  Strong Carbon fiber pole with locking system that allow for easy tightening and loosening of pole section.
-  Padded hand grips for comfort and helps isolate noise when holding the boom pole.
-  Blimp Designed to support a wide range of microphones up to 13 inch Affordably priced for all users.
-  Weighing only 800 Grames with wire the pole is only 3.6ft long when collapsed and the additional comfort provided by the     soft and flexible foam hand grips reduce operator fatigue associated with longer shoots.
-  Carbon fiber poles are much lighter in weight than aluminium poles.
-  High-density graphite carbon fiber tubes for strength, durability and lightweight.
-  Special coating of the primary tube to reduce handling noise.
-  Collapsible sections with unique design to reduce length for storage.
-  100% Satisfaction Guarantee.
XLR CABLE
Made of top grade quality material, Portable and ergonomically designed.This 20ft Long XLR cable has male and female connector. It ensures high-speed and error-free data transfer.
Highest quality professional grade connectors
IMAGE GALLERY
Attenuate the wind noise without interfering with the desired sound