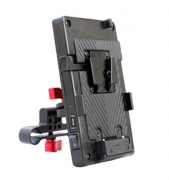 Camtree Hunt Multi Power Splitter
A complete handy, lightweight and portable power supply solution that maintains signal integrity. Stylish & sturdy design offers ease of usage and convenience. Camtree Hunt Multi-channel power splitter for V-Mount battery features a myriad of inputs and outputs that makes it an efficient and reliable piece of equipment. It mounts securely onto any industry standard 15mm rail system with center to center distance of 60mm.
By mounting multi-channel power supply system on your camera rig, you can effectively create a perfect counter balance for your camera. In addition, all devices such as LED lights, mics, monitors, camcorders and other equipment's can also be powered from a single portable power source. It serves as both an input for charging purposes and an output to enable the user to power accessories. In short, it can be used as a complete power supply solution for powering video or photographic accessories.

INCLUDED
-  Camtree Hunt Power Splitter CH-PS-F
-  DC Coupler DR-E6
-  2x Power Supply Wires
-  COMPLIMENTARY Wire Clamps
SPECIFICATIONS
-  CNC made Black Anodized aluminum constructed base plate.
-  15mm Rod connector
-  Standard V-mount Compatible
-  1x 12V, 1x 7.2V and 1x5V output ports for LCD monitors, flash recorders, audio recorder stand and LED lights etc.
FEATURES
- Smart charging function, intelligent control & protection circuit.
- Temperature, current and voltage protection.
- High-class electronic components.
- D-Tap output.
- Easily fits 15mm rods with central distance of 60mm.
- Latest regulator modules, higher efficiency, low heat.
- Supplies power to LCD monitors, on board camera lights, microphones etc. 
- Connects the v mount battery and video devices together.
- 100% Satisfaction Guarantee.
CAN BE USED THIS PLATE WITH MULTIPLE POSITIONS
DC Coupler DR-E6
Multi-functional & Performance oriented
Exclusive of Battery and Shoulder Rig
IMAGE GALLERY
Suitable to mount on industry standard 15mm rails