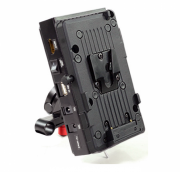 Camtree Hunt HDMI Multi Power Splitter
An essential add-on gear for your camera system that works till the time you want when shooting outdoor. Camtree Hunt introduces a complete handy, lightweight and portable power supply solution that maintains signal integrity. Stylish & sturdy design offers ease of usage and convenience. Camtree Hunt HDMI multi power splitter for V-mount battery features a myriad of inputs and outputs. With standard 60mm center to center 15mm rail holes; V Mount battery plate can be mounted on the camera rig easily. Internal HDMI splitter is capable of dividing a single HDMI stream into two outputs.
Complete power supply solution for long hours shooting
Whether you need to power an on-camera light, a monitor, or an onboard accessory, Camtree hunt HDMI multi power splitter for V-mount battery will feed your accessories' power for an extended period of time. The V Mount battery can be quickly swapped out with another to keep you running all day instead of having to deal with multiple battery types and chargers. This setup can also act as a counterweight on rigs, so instead of having useless dead weight, you've got a functional piece of gear.
FEATURES
-  Smart charging function. Built-in HDMI splitter.
-  No voltage shortage.
-  D-tap power output.
-  Use high-class electronic components.
-  5V output and one 5V input for build-in HDMI splitter.
-  Easily fits 15mm rods with central distance of 60mm.
-  Latest regulator modules, higher efficiency, low heat.
-  Supplies power to LCD monitors, on board camera lights, microphone amplifier or broadcast accessories.
-  It is a device which can connect the battery and video devices together.
-  100% satisfaction guarantee


A sturdy plate with a lot of powering options
Revised on 9-Jan-2016
IMAGE GALLERY
Unbeatable, Professional tool with superior performance
Exclusive of Camera, Battery, Camera Cage.