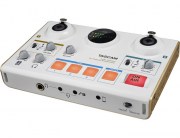 Tascam MiNiSTUDIO Creator US-42
Tascam MiNiSTUDIO Creator US-42 Podcast Studio ออดิโออินเทอร์เฟสที่ออกแบบมาสำหรับงาน Podcast, Streaming, Facebook Live ใช้งานง่าย รองรับทั้ง Mac และ Windows ช่องต่อไมค์ 2 ตัวแบบคอมโบ XLR/TRS รองรับทั้งไมค์และเครื่องดนตรี พร้อม +48V Phantom Power ช่องต่อหูฟังปรับความดังอิสระ ช่องอินพุท 3.5mm สำหรับรับเสียงจากสมาร์ทโฟนหรือแหล่งอื่นๆ ปุ่มเอฟเฟกต์ 3 ปุ่มตั้งค่าได้ พร้อมเอฟเฟกต์ในตัว EQ แบบ 4-band parametric ปุ่ม ON AIR เลือกเปิด-ปิดเสียง พร้อมมิเตอร์เสียงแสดงระดับความดัง สวิทช์เลือกโหมด Creator/Broadcast ใช้ไฟจากพอร์ท USB คอมพิวเตอร์ บันทึกได้สูงสุด 24 bit / 96 kHz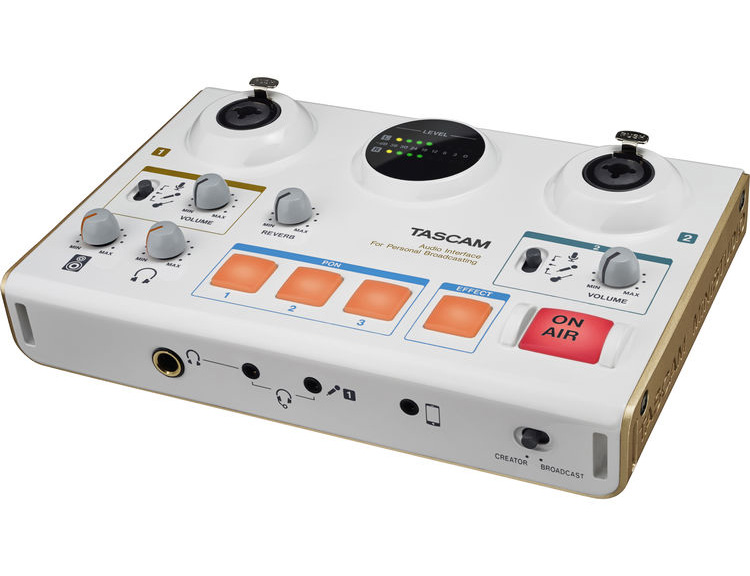 Tabletop Podcast-Production Studio
Gaming, Streaming, Music Recording
2 Combo XLR Mic/Instrument Inputs, +48V
3 Programmable Pads for Instant Sound FX
Reverb Knob & Voice Effect Button
2 Headphone Outputs for Host & Guest
Audio Software with Easy & Expert Modes
3.5mm Input for Gamer Headset
USB Interface for 24-Bit / 96 kHz Audio
Hi-Z Inputs for Electric Guitar or Bass
The Tascam MiNiSTUDIO Creator US-42 Podcast Studio is made for beginner and intermediate podcasters, streamers, and gamers looking to make their audio productions stand out on YouTube, FaceBook Live, Twitch, and elsewhere in the podcasting universe. This tabletop solution combines simple hardware with user-friendly software, putting all the essential tools for podcasting right at your fingertips in a versatile interface that plugs into your Mac or Windows computer via USB. What's more, with a flick of its Creator switch, the US-42 becomes a powerful audio interface—allowing you to record vocals and instruments to your computer with studio-quality results.
The MiNiSTUDIO Creator US-42 is streamlined to have first-time users up and broadcasting a two-person podcast in minutes. It features inputs for plugging in just about any kind of microphone or instrument to record you and your guest with a clean, professional sound, and has two headphone jacks that let both the host and the guest clearly hear themselves.
The US-42 allows you to create a polished and fully produced podcast on the fly, without having to focus on engineering. Easy-to-reach controls and effects pads let you adjust levels, add reverb, instantly transform your voice, and even trigger fun sound effects like applause, air horns, or music. With a pair of microphones, stands, cables, and headphones, you're ready to hit the On Air button and start the show.
Features
Tabletop broadcast- and music-production studio for podcasting, streaming, and gaming
Lightweight design convenient for mobile use
USB 2.0 audio interface compatible with Mac, Windows, and iOS devices
2 combo XLR/TRS jacks support balanced input for microphones and instruments
HDDA (High Definition Discrete Architecture) microphone preamps with individual level controls and +48V phantom power to accommodate dynamic and condenser microphones
Preamps double as Hi-Z inputs for your electric guitar or bass
TRRS and TRS connections for gaming headsets
3.5mm stereo aux input can be used to connect smartphones, tablets, and game devices
Unit can be connected to record or stream on an iOS device using an Apple Lightning-USB camera adapter (available separately)
Meter lets you visually monitor the level of the mic inputs
Stereo 1/4" and 3.5mm jack headphone outputs with shared volume knob
Stereo RCA outputs with level knob for connecting unit to a PA system or powered speakers
3 PON sound-effect pads for triggering preselected audio sound bites, songs, or samples of your choice (bell, buzzer, and applause samples are included)
Trigger pads are self-lighting and velocity-sensitive
Effect on/off button creates pitch-change, walkie-talkie, echo, and chopper voice FX
Digital reverb effect with a convenient front-panel control knob to add depth to your voice
4-band parametric EQ and adjustable compression to add presence to your voice
Use On Air button to start or mute broadcast transmission
Illuminated On Air button confirms that you're live on the air
Input monitoring function allows you to hear input sounds before they are transmitted
Creator/Broadcast switch: select Broadcast to turn on live streaming; or select Creator switch to activate the two-channel USB interface and record audio straight to your computer (music or video recording software is available separately)
Includes dedicated MiNiSTUDIO software with Easy and Expert tabs to provide complete control over the unit's parameters
USB-powered operation is supported when connected to a computer
When using with an iOS device, unit can be powered via a USB power adapter or the TASCAM BP-6AA external battery pack (both available separately)
Support for high-resolution recording formats up to 96 kHz / 24-bit
Works with all major streaming software/services (YouTube, Facebook Live, Twitch, Skype, and more)
Compatible with major DAW software including Audacity, SONAR, Pro Tools, Cubase, Live, Studio One, and GarageBand
 Specifications
Computer Connectivity:USB
Form Factor:Desktop
Simultaneous I/O:5 x 5
Number of Preamps:2
A/D Resolution:24-bit/96kHz
Built In DSP/FX:Compression, EQ, Reverb, voice efx
Analog Inputs:2 x XLR-1/4" combo, 1 x 1/8" (line in), 1 x 1/8" (4-pole jack headset mic)
Analog Outputs:1 x stereo RCA
Headphones:1 x 1/4" (headphones), 1 x 1/8" (headset)
USB:1 x Type B, 1 x Micro-B
OS Requirements - Mac:Dual core 2GHz or higher, 2GB RAM minimum, OS X 10.8 or later, iOS 7 or later
OS Requirements - PC:Dual core 2GHz or higher, 2GB RAM minimum, Windows 7 or later
Bus Powered:Yes (when connected to host computer)
Depth:5.11"
Width:7.87"
Height:1.57"
Weight:1.1 lbs.