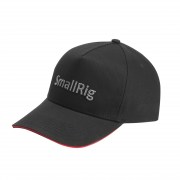 SmallRig Logo Baseball Cap PCC2462
SmallRig Logo Baseball Cap PCC2462 หมวกแก๊ปของแท้ลิขสิทธิ์ SmallRig ป้องกันแสงแดดสำหรับถ่ายวิดีโอกลางแจ้ง ปรับขนาดให้เข้ากับสรีระ ผลิตจากผ้าฝ้ายอย่างดีสวมใส่สบาย แถบผ้าโพลีเอสเตอร์ด้านในช่วยซับเหงื่อและระบายอากาศ
SmallRig Logo Baseball Cap PCC2462 is designed to provide glare protection when shooting outdoor for cameramen. The cap is adjustable which can fit most head sizes. It has a SmallRig logo on the front and features a red line to embellish in front. The cap is made of 100% soft cotton and features 100% polyester fabric sweatband inside to keep it breathable.
Key Features:
1. SmallRig Logo Cap.
2. 100% Soft Cotton.
3. Lightweight and Breathable. 
4. High-Quality Moisture Wicking Sweatband. 
5. Adjustable Fits Most Head Sizes from 50-60cm.
Designer: Kylin Wu
Compatibility:
Unisex Fit
Standard Head Size: 50-60cm
Package Includes:
1 x Cap
Product Dimensions: 280 x 190 x 130mm
Package Dimensions: 180 x 180 x 80 mm
Net Weight: 100g
Package Weight: 208g
Material(s): Cotton, Polyester Fabric